12 oct 2009
The floods ripping through Andhra Pradesh have left a devastated countryside in their wake, ruining families and livelihoods. Kurnool district, one of the worst affected areas, is now a ghost town with the crops and cattle washed away and the people left with nothing but just the will to survive. The villagers and their children are being helped into government buildings in nearby towns.
Mata Amritanandamayi Math, under the divine guidance of Amma (Mata Amritanandamayi Devi) has come forward to offer all their resources for the flood-affected. The Math has setup medical camps in villages in Kurnool district and has been treating over 500 people every day. The Math has housed a TeleMedical van equipped with a mobile ICU unit to respond to any kind of emergency. With the help of the TeleMedical unit, everything from primary care to complex diagnosis can be achieved with the help of satellite transmission of data to and video conferencing with the super specialty hospital AIMS in Cochin.
An expert team of 12 doctors and paramedical staff are working round-the-clock, providing relief and medical assistance to the flood-affected. The devotees of Hyderabad joined the relief camp assisting in setting up camps & helping the medical team.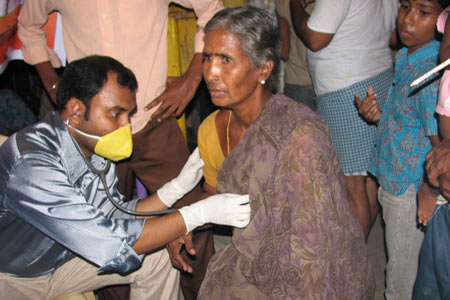 Equipped with the latest in medical technology and a strong desire to save millions of lives, the Math is doing all that it can to reach out to the flood-affected areas in the state. The Math is also supplying food and clothing to the people who have been thrown out of their normal lives by nature's seething fury.